Tonight hubby and I enjoyed tuna melts for supper, but not just any tuna melts...I made the kind my dad made when I was a kid. I decided to take some pictures and share the tuna fun!
First steps to yummy goodness:
preheat oven to 450
in a small pot combine 1 can of cream of celery soup, 1 can tuna (drained), 1/4 cup frozen peas, and 1/2 soup can of milk, some pepper & Cayenne pepper to taste.
Heat this mixture until nice and warm and frozen peas are cooked.
In the meantime, shred some of your favourite cheese for the tops of the melts.
Now, the fun part...what really makes this 'a la Dad"
Get out your muffin tins and grease them.
Squish a (very lightly toasted) piece of bread in each hole of the muffin tin:
like this!
Next, spoon the tuna mixture into the bread cups
and sprinkle with cheese.
Bake them in the oven for about 5 minutes. You just want the cheese to be melty and the bread points to be a little crunchy.
Then enjoy and reminisce about your childhood...ok, maybe that's just when I eat them.
Give it a whirl sometime. Kids really like making the break cups, plus they are fun to eat!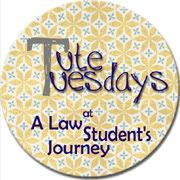 Tute Tuesdays